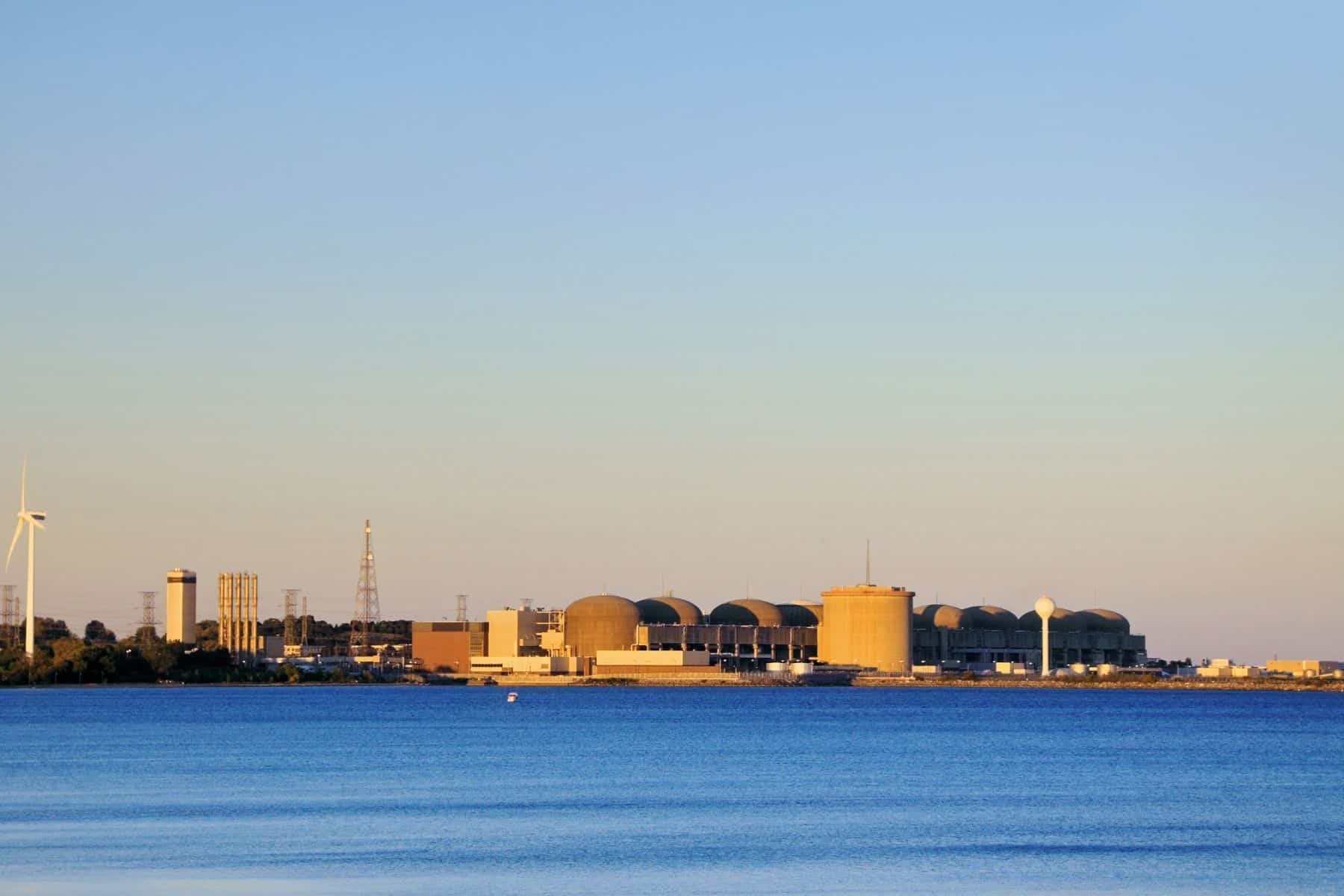 Small nuclear reactors in Canada: at what cost?
The sudden cancellation last week of the first small nuclear reactor project in the United States, the NuScale project, calls into question the economic viability of Canada's plans to develop and deploy small modular reactors.
Potential customers in Utah balked at the soaring projections for the cost of electricity the NuScale reactor would generate, and the project was unable to recruit other customers to buy its power.
Today, in response, civil society groups across Canada are demanding transparency and accountability for the costs of other small nuclear reactor designs planned in this country.
"Canada should stop writing blank cheques to nuclear promoters who cannot deliver on their promises of cheap, reliable electricity," said Gordon Edwards, President of the Canadian Coalition for Nuclear Responsibility.
Transparency requirements in the U.S. forced NuScale proponents to disclose the projected costs of electricity to potential investors on a regular basis. This is not the case in Canada.
Earlier this year, the target price for electricity from the NuScale project rose by over 50 percent to $89 US per MWh ($122.99 Canadian) with indications that future increases would be forthcoming. Investor confidence was shaken, and the project was scrapped.
The NuScale reactor design has been in development for more than 15 years and the company's first commercial joint venture with electrical utilities in Utah was launched in 2015.
Governments in New Brunswick, Ontario, Saskatchewan and Alberta have committed to building small reactors, while the Quebec government is conducting feasibility studies.
However, none of the Canadian nuclear proponents have laid out the projected costs of electricity production. In New Brunswick, the government has changed legislation to force the electricity utility to purchase power from new nuclear reactors even when it is not the lowest cost option.
Three years ago, more than 140 civil society groups across Canada signed a statement calling the proposed new reactors a "dirty, dangerous distraction," from real climate action.
Nuclear critics have consistently said these new reactor designs will take too long to develop, and will cost too much compared with existing proven renewable energy option, to deal effectively with the climate crisis that requires immediate action.
To date, federal and provincial taxpayers have subsidized these reactors through a $970 million low interest loan to Ontario Power Generation, more than $100 million in grants to private companies and public utilities in Ontario, New Brunswick, Saskatchewan and Alberta, and millions more to research fuelling requirements for small reactors at Chalk River.
Civil society groups are demanding accountability for these costly nuclear developments. Without full transparency, taxpayers and ratepayers will be forced to subsidize these experimental reactor projects and pass on an unwanted economic debt legacy to our children and grandchildren, along with the radioactive waste legacy that all nuclear reactors are adding to every day.
Quotes:
Michael Poellet, President, Inter-Church Uranium Committee Educational Cooperative:
"Small Modular Reactors (SMRs) were meant to remedy the grossly excessive, over-budget costs of nuclear power generation. With the price of renewables dropping precipitously the economics of SMRs has only worsened. The cancellation of the NuScale project with its utility partner Utah Associated Municipal Power Systems demonstrates that commercial electrical generation with SMRs is not economically viable. Canadian federal and provincial governments must allow the economic realities to break the spell that enchantment with SMRs has over them."
David Geary, Writer and Researcher, Clean Green Saskatchewan:
"Our group, Clean Green Saskatchewan, was always confident that NuScale and all other SMR startup enterprises, GE-Hitachi included [a new reactor design selected for Ontario and Saskatchewan], would fail because of the 'bottom line' … i.e., the economics, the 'financials'. They simply cannot compete in the energy marketplace…compared to any other electrical energy producing technology."
Jack Gibbons, Chair, Ontario Clean Air Alliance
"The failure of the most advanced small nuclear project in the U.S. to come even remotely close to being financially viable should be a wake-up call for politicians in Canada dreaming about castles in the sky. Counting on unproven new nuclear technology to provide low-cost power is like counting on snow in July. It is time for Premier Ford to follow Hydro Quebec's example and develop a financially prudent plan to meet all of Ontario's future electricity needs by investing in energy efficiency, renewables and storage. It doesn't make sense to waste public money on high-cost, high-risk nuclear projects when we have much cleaner, safer and lower cost options to keep our lights on."
Susan O'Donnell, Spokesperson, Coalition for Responsible Energy Development in New Brunswick
"Our provincial government is backing two nuclear start-ups and their experimental small reactor designs. These two designs are based on earlier reactors that never operated successfully commercially despite billions of dollars in public subsidies in other countries. We believe that despite the tens of millions of public dollars given to the start-ups so far, their costly boondoggles will never be built. In effect, our government is kicking the can down the road, delaying real climate action by betting on unicorns and fairy dust."
Gordon Edwards, President, Canadian Coalition for Nuclear Responsibility
"Public utilities are owned by the government. People elect the government. So every citizen is a shareholder in the utility company and deserves to be kept informed of all business decisions that they will ultimately have to pay for. In the midst of a climate crisis and crippling inflation, Spending Money Recklessly (SMR) is a terrible strategy. We should not delay climate action by wasting our time, our money, and our political will on speculative reactors that are all 'first-of-a-kind' experiments."
Jean-Pierre Finet, Porte-parole, Regroupement des organismes environnementaux en énergie
"There is no social acceptability for nuclear energy in Quebec.  Small modular reactors are not only costly, they take away government funding that would be better used on proven technologies such as heat pumps and heat storage.  It is time that the Canadian government comes clean about the cost of this pseudo clean energy."
Media release from CRED-NB and collaborators. Le français suit…
From:
Canadian Coalition for Nuclear Responsibility 
In collaboration with and endorsed by:
Clean Green Saskatchewan
Coalition for Responsible Energy Development in New Brunswick
Friends of the Earth Canada
Inter-Church Uranium Committee Educational Cooperative (Saskatchewan)
Ontario Clean Air Alliance
Prevent Cancer Now
Le Regroupement des organismes environnementaux en énergie (Quebec)
The Society of High Prairie Regional Environmental Action Committee (Alberta)
Petits réacteurs nucléaires au Canada : à quel prix ?
L'annulation la semaine dernière du premier projet de petit réacteur nucléaire aux États-Unis, le projet NuScale, remet en question la viabilité économique des projets canadiens de développement et de déploiement de petits réacteurs modulaires.
Les clients potentiels de l'Utah se sont montrés réticents face à la montée en flèche du coût de l'électricité produite par le réacteur NuScale, et le projet n'a pas été en mesure de recruter d'autres clients pour acheter son électricité.
Aujourd'hui, en réponse à cette situation, des groupes de la société civile de tout le Canada exigent la transparence et l'obligation de rendre compte des coûts des autres projets de petits réacteurs nucléaires prévus dans ce pays.
"Le Canada doit cesser de signer des chèques en blanc aux promoteurs nucléaires qui ne peuvent tenir leurs promesses d'une électricité fiable et bon marché", a déclaré Gordon Edwards, président du Regroupement pour la surveillance du nucléaire.
Les exigences de transparence aux États-Unis ont contraint les promoteurs de NuScale à divulguer régulièrement les coûts prévus de l'électricité aux investisseurs potentiels. Ce n'est pas le cas au Canada.
Au début de l'année, le prix cible de l'électricité produite par le projet NuScale a augmenté de plus de 50 % pour atteindre 89 dollars américains par MWh (122,99 dollars canadiens), avec des indications que d'autres augmentations allaient suivre. La confiance des investisseurs a été ébranlée et le projet a été abandonné.
La conception du réacteur NuScale est en cours de développement depuis plus de 15 ans et la première coentreprise commerciale avec les services publics d'électricité de l'Utah a été lancée en 2015.
Les gouvernements du Nouveau-Brunswick, de l'Ontario, de la Saskatchewan et de l'Alberta se sont engagés à construire de petits réacteurs, tandis que le gouvernement du Québec mène des études de faisabilité.
Toutefois, aucun de ces promoteurs nucléaires n'a présenté les coûts prévus de la production d'électricité. Au Nouveau-Brunswick, le gouvernement a modifié la législation pour obliger la compagnie d'électricité à acheter de l'électricité provenant de nouveaux réacteurs nucléaires, même si ce n'est pas l'option la moins coûteuse.
Il y a trois ans, plus de 140 groupes de la société civile du Canada ont signé une déclaration qualifiant les nouveaux réacteurs proposés de "distraction sale et dangereuse" par rapport à une véritable action en faveur du climat.
Les détracteurs du nucléaire n'ont cessé de répéter que la mise au point de ces nouveaux réacteurs prendrait trop de temps et qu'ils coûteraient trop cher par rapport aux options existantes en matière d'énergies renouvelables, qui ont fait leurs preuves, pour que l'on puisse faire face efficacement à la crise climatique qui exige des mesures immédiates.
À ce jour, les contribuables fédéraux et provinciaux ont subventionné ces réacteurs en accordant un prêt à faible taux d'intérêt de 970 millions de dollars à l'Ontario Power Generation, en accordant plus de 100 millions de dollars de subventions à des entreprises privées et à des services publics en Ontario, au Nouveau-Brunswick, en Saskatchewan et en Alberta, et en consacrant des millions de dollars supplémentaires à la recherche sur les exigences en matière de combustible pour les petits réacteurs de Chalk River.
Les groupes de la société civile demandent des comptes sur ces développements nucléaires coûteux. Sans une transparence totale, les contribuables et les usagers seront contraints de subventionner ces projets de réacteurs expérimentaux et de léguer à nos enfants et petits-enfants une dette économique non désirée, ainsi que les déchets radioactifs que tous les réacteurs nucléaires ajoutent chaque jour à l'héritage.
Citations:
Michael Poellet, président de l'Inter-Church Uranium Committee Educational Cooperative :
« Les petits réacteurs modulaires (PRM) étaient censés remédier aux coûts excessivement élevés et hors budget de la production d'énergie nucléaire. Avec la chute vertigineuse du prix des énergies renouvelables, la situation économique des PRM n'a fait qu'empirer. L'annulation du projet NuScale avec son partenaire Utah Associated Municipal Power Systems (UAMPS) démontre que la production commerciale d'électricité avec des PRM n'est pas économiquement viable. Les gouvernements fédéral et provinciaux du Canada doivent permettre aux réalités économiques de rompre l'enchantement qu'ils éprouvent à l'égard des petits réactreurs modulaires. »
David Geary, écrivain et chercheur, Clean Green Saskatchewan :
« Notre groupe, Clean Green Saskatchewan, a toujours été convaincu que NuScale et toutes les autres entreprises de démarrage de "petits réacteurs modulaires" (PRM), y compris GE-Hitachi [un réacteur choisi par l'Ontario et le Saskatchewan], échoueraient à cause du "résultat net"… c'est-à-dire de l'économie, des "finances". Ils ne peuvent tout simplement pas être compétitifs sur le marché de l'énergie … par rapport à n'importe quelle autre technologie de production d'énergie électrique. »
Jack Gibbons, président de l'Ontario Clean Air Alliance
« L'échec du projet de petite centrale nucléaire le plus avancé des États-Unis, qui n'a même pas réussi à s'approcher de la viabilité financière, devrait être un signal d'alarme pour les politiciens canadiens qui rêvent de châteaux dans le ciel. Compter sur une nouvelle technologie nucléaire qui n'a pas fait ses preuves pour fournir de l'électricité à bas prix, c'est comme compter sur la neige en juillet. Il est temps que le premier ministre Ford suive l'exemple d'Hydro-Québec et élabore un plan financièrement prudent pour répondre à tous les besoins futurs de l'Ontario en matière d'électricité en investissant dans l'efficacité énergétique, les énergies renouvelables et le stockage. Il est insensé de gaspiller des fonds publics dans des projets nucléaires coûteux et à haut risque, alors que nous disposons d'options beaucoup plus propres, plus sûres et moins coûteuses pour maintenir nos lumières allumées. »
Susan O'Donnell, porte-parole, Coalition pour le développement énergétique responsable au Nouveau-Brunswick
« Notre gouvernement provincial soutient deux entreprises nucléaires en démarrage et leurs petits réacteurs expérimentaux. Ces deux modèles sont basés sur des réacteurs antérieurs qui n'ont jamais été exploités commercialement avec succès malgré des milliards de dollars de subventions publiques dans d'autres pays. Nous pensons qu'en dépit des dizaines de millions d'euros versés jusqu'à présent aux start-ups, ces coûteux projets ne seront jamais construits. En fait, notre gouvernement fait traîner les choses en longueur et retarde l'adoption de véritables mesures climatiques en pariant sur des licornes et de la poussière de fée. »
Gordon Edwards, président du Regroupement pour la surveillance du nucléaire
« Les services publics appartiennent au gouvernement. Les citoyens élisent le gouvernement. Chaque citoyen est donc un actionnaire de la compagnie d'électricité et mérite d'être informé de toutes les décisions commerciales qu'il devra finalement payer. Dans un contexte de crise climatique et d'inflation paralysante, dépenser de l'argent de manière inconsidérée est une stratégie terrible. Nous ne devrions pas retarder l'action climatique en perdant notre temps, notre argent et notre volonté politique dans des réacteurs spéculatifs qui sont tous des expériences "premières du genre". »
Jean-Pierre Finet, analyste et porte-parole, Regroupement des organismes environnementaux en énergie
« Il n'y a pas d'acceptabilité sociale pour l'énergie nucléaire au Québec. Les petits réacteurs modulaires sont non seulement coûteux, ils privent le gouvernement de financement qui serait mieux utilisé pour des technologies éprouvées telles le solaire, l'éolien et le stockage. Il est temps que le gouvernement canadien révèle clairement le coût de cette énergie soi-disant propre. »
De :
Regroupement pour la surveillance du nucléaire
En collaboration avec et endossé par :
Clean Green Saskatchewan
Coalition for Responsible Energy Development in New Brunswick
Friends of the Earth Canada
Inter-Church Uranium Committee Educational Cooperative (Saskatchewan)
Ontario Clean Air Alliance
Prevent Cancer Now
Le Regroupement des organismes environnementaux en énergie (Quebec)
The Society of High Prairie Regional Environmental Action Committee (Alberta)
-30-