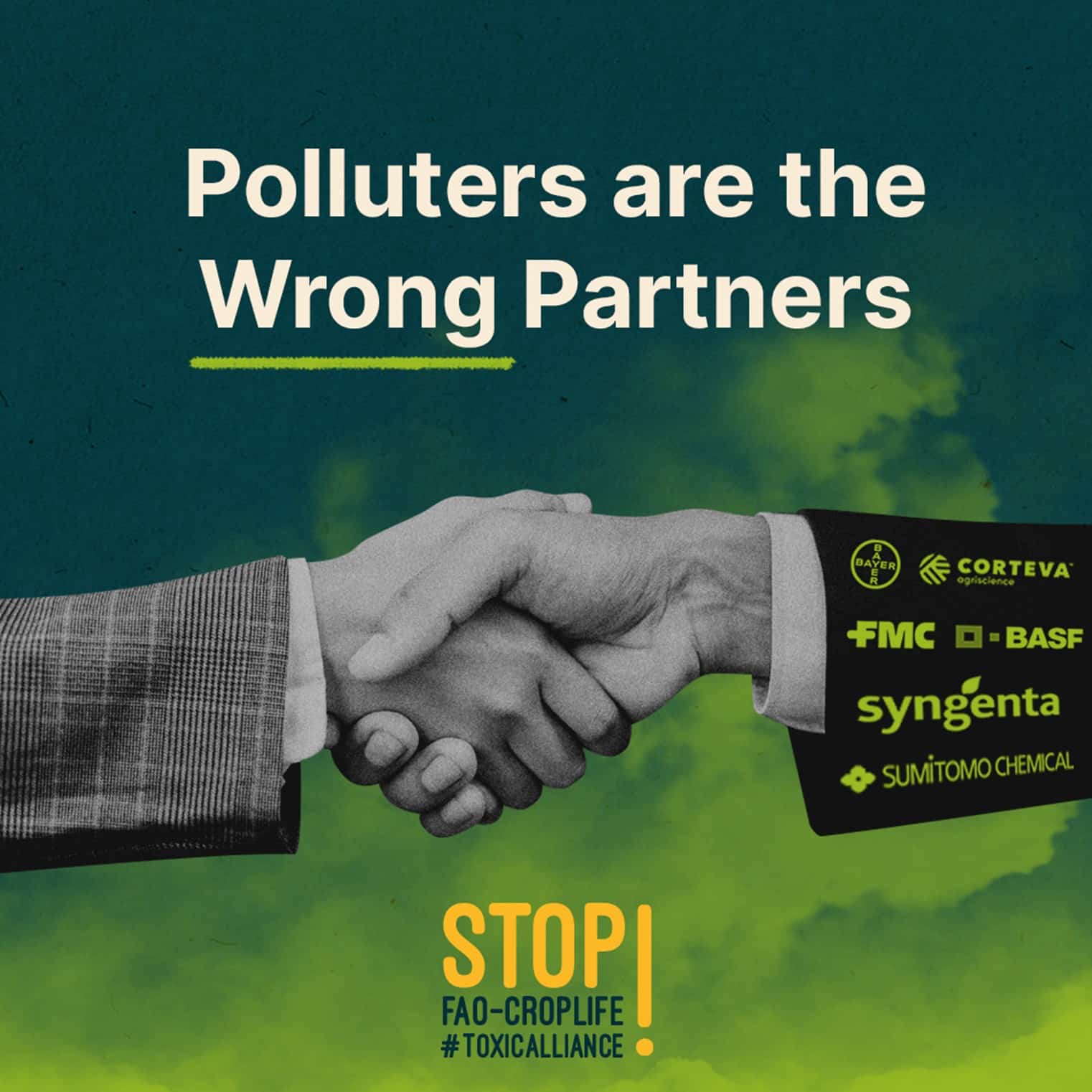 Declare No-go Zones for CropLife lobbyists, FAO and Nature COP told
This same week as the start to the UN's Nature COP in Montreal, the UN's Food and Agricultural Organization (FAO) Governing Council will be meeting, and we're calling on FAO leadership to end their indefinite agreement with pesticide industry lobbyists, CropLife International. FAO was created to promote sustainable agriculture, champion biodiversity and protect human health. However, in 2020, they announced a new partnership with CropLife International, the trade association for the world's largest pesticide manufacturers.
The pesticide industry, responsible for 385 million pesticide poisonings per year and unprecedented levels of pollution and biodiversity loss, is a huge contributor to the global food, ecological and climate crises. CropLife is no ordinary private sector actor; its primary aim to sell toxic pesticides runs directly counter to FAO's mandate and the implementation of the Sustainable Development Goals. CropLife uses the guise of agricultural innovation and digital technology to expand market opportunities and increase profits for its members, especially in the Global South where highly hazardous pesticide (HHP) sales are even higher and have more impacts on health and environment. CropLife member companies have interfered in scientific data and national policy. It cannot be ignored that CLI has outsized political and economic influence on efforts to ban or restrict the world's most toxic pesticides or regulate global export and distribution. The FAO must EXCLUDE CropLife in private sector partnerships mentioned as an integral part of its strategies to address the food and climate crises, particularly the FAO's Strategy on Climate Change and Science and Innovation Strategy.
This same week, delegates begin meeting for the UN Conference of the Parties for the Convention on Biological Diversity, otherwise known as the Nature COP. Among the many targets, they are debating a reduction in global pesticide use as well as a ban on Highly Hazardous Pesticides, many of them banned in the north but still used in the global south.
There is no place for CropLife and its pesticide manufacturing members at the FAO Governing Council meeting nor at the Montreal Nature COP. Friends of the Earth Canada joins in the demand to end the FAO's intent to collaborate with the world's biggest pesticide corporations, as expressed by nearly 200,000 individuals from over 107 countries, over 430 civil society and Indigenous Peoples organizations, nearly 300 academics and scientists, and nearly 50 philanthropic groups, as well as the Special Rapporteur on the Right to Food who raised concerns in his report to the 49th session of the UN Human Rights Council.
Read the letter to FAO  FAO-En-Letter-to-DA-Bechdol-2022-11-Nov-28