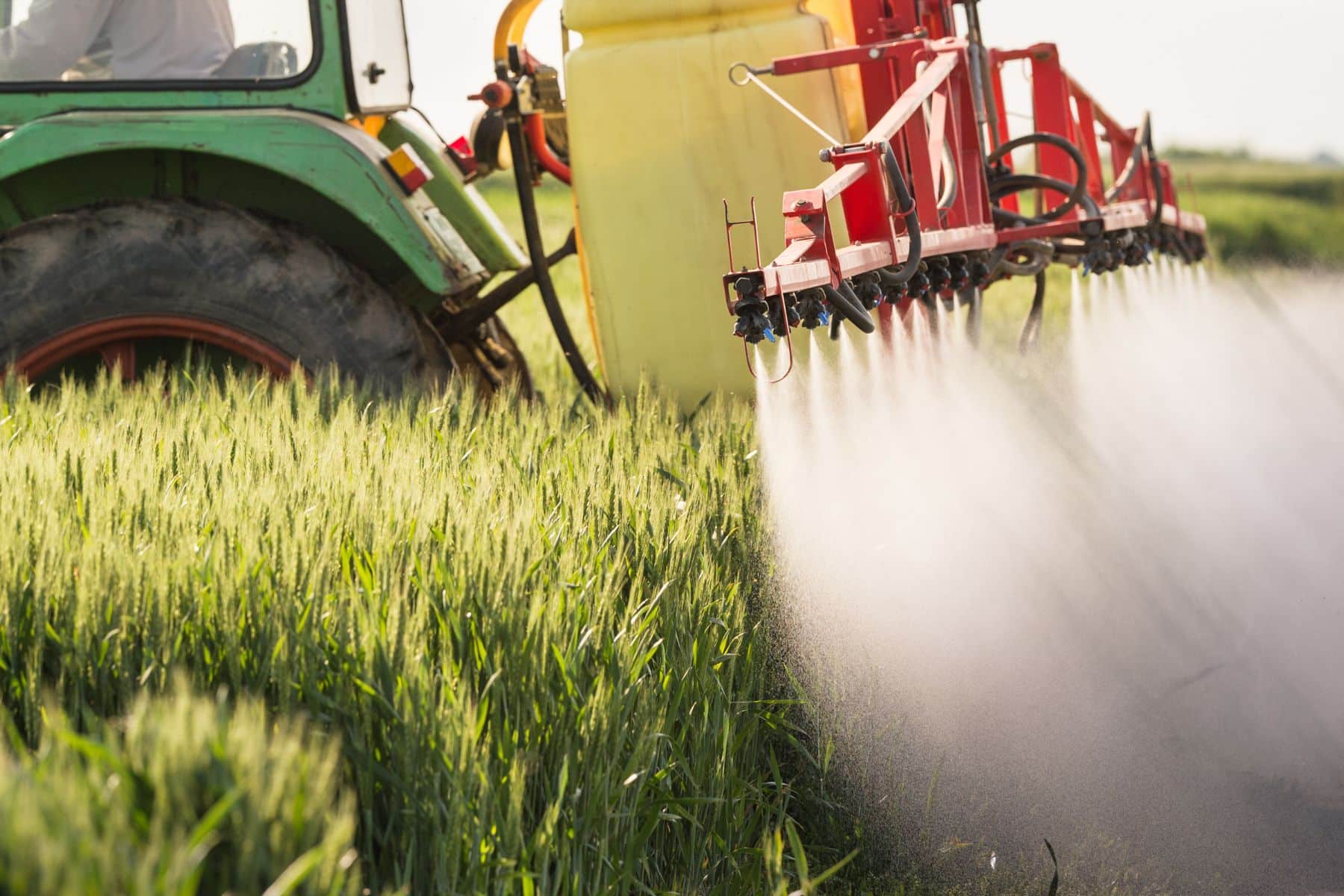 It's time to ban glyphosate: a call to action to Canadians and residents of Canada
Petition Updates will be posted here.
Petition e-4127 calling for a ban on glyphosate is closed effective January 13. Thank you to all 18,385 people signing on to the petition. Watch this space for details on presentation of the petition to the Minister of Health in the House of Commons. The Minister will be required to respond to the petition within 45 days.
You can still watch for free  "Into the Weeds", on CBC's Passionate Eye. 
---
Glyphosate is unavoidable, brought to you by Monsanto (owned by Bayer) and friends.
Whether you want it or not, glyphosate is in your water, in much of the food you eat, in the soils growing that food, in forests, rivers and streams, and in wildlife.
The science is clear to us that glyphosate is harming our health and the environment, but pesticide regulators are still "monitoring" the science and refusing to take action.
Now, a courageous film producer, Jennifer Baichwal, filed a citizen's petition to Parliament to ban glyphosate and to reduce pesticides use. For 120 days, until January 13, 2023, residents of Canada can take action by signing Petition e-4127. Once presented to Parliament, the Minister of Health must respond to the petition.
Jennifer also directed the award winning documentary, "Into the Weeds", which opens the fall season of CBC's Passionate Eye on Friday, September 16. It will stream on CBC Gem thereafter. It follows Dewayne "Lee" Johnson, a former groundskeeper who takes on Bayer, a multinational agrochemical corporation after diagnosis of a terminal cancer linked to his exposure to Roundup.
Another courageous person is Member of Parliament, Jenica Atwin from Fredericton. She has presented a private member's bill to ban glyphosate. Bill C-287 calls for Parliament to amend the Pest Control Products Act "to prohibit the manufacturing, possession, handling, storage, transportation, importation, distribution or use of glyphosate." It's a simple but comprehensive call to action that parliamentarians can and should support.
With both the Petition e-4127 and Bill C-287 in play, the glyphosate debate has moved to the political level, and every Member of Parliament can and should engage.
We are asking you to engage too, by signing Petition e-4127 and sharing it widely. If you reside in Canada, you are eligible to sign the petition. Please sign Petition e-4127 and send it on to everyone you know.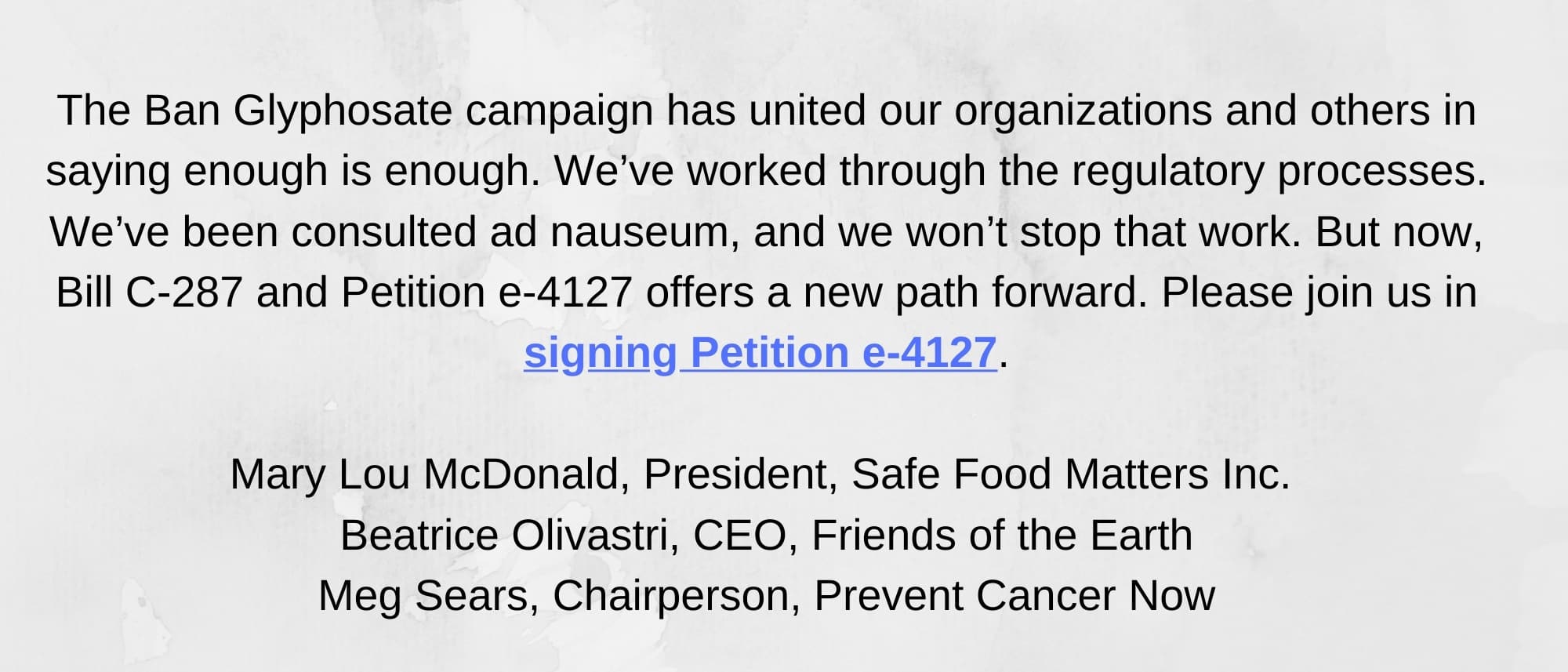 ---
Preview of the Petition to Ban Glyphosate – help build a glyphosate-free future in Canada
E-petition to Minister of Health
Whereas:
Glyphosate is Canada's most widely sold pesticide – used in agriculture as an herbicide and to kill crops for harvest, in forestry to kill unwanted target trees and vegetation, and as an herbicide on rights-of-way, commercial and residential grounds, golf courses, schools and other landscapes.
The result is residents of Canada, including infants and children, consume glyphosate residues in their food and water and are exposed to it while outdoors for recreation, occupational activities, hunting and harvesting.
The use of glyphosate harms aquatic and terrestrial species and causes loss of biodiversity thereby making ecosystems more vulnerable to pollution and climate change. It endangers pollinators including wild bees and monarch butterflies and exacerbates wildfires since conifer-only forests burn faster and hotter than mixed forests.
In 2015, the World Health Organization's International Agency for Research on Cancer classified glyphosate as "probably carcinogenic to humans".
Glyphosate has been found to cause injuries to human health including harming cellular function and causing reproductive effects, hormone disruption, microbiome disruption and cancer.
The Pest Control Products Act is referred to Parliament for review and Health Canada is conducting a transformation of the Pest Management Regulatory Agency.
We, the undersigned residents of Canada, call upon the Minister of Health to:
Ban the sale and use of glyphosate to protect human health and the environment; and
Develop a comprehensive plan to reduce overall pesticide use in Canada.