While Maya's Plastic Pollution Campaign to ban PLU stickers ended May 7th. The fight doesn't stop there! Over the coming weeks and months, we'll be rolling out Maya's Plastic Pollution Campaign 2.0 with new ways that you can help push our government to take meaningful action on plastic pollution.
Maya, a ten-year-old from Markham, Ontario, cares a lot about animals and wanted to make a difference. After being turned down by some conservation groups because of her young age, she reached out to  Friends of the Earth Canada and offered to volunteer. Friends of the Earth offered Maya a lead role in a national campaign against plastic pollution that focused on a small, but very important, item of plastic pollution – plastic price look-up stickers called PLUs. They're something you might never notice until you hear about them. After that, you'll never be able to ignore them when you shop for food.
On March 6, 2023, Maya and Friends of the Earth launched Maya's Plastic Pollution Campaign. Its goal was to raise awareness of plastic price look-up stickers (PLUs) on fruits and vegetables and the ways in which they can harm our environment, and to call on the federal government to include these stickers under an expansion of the country's single-use plastics ban. Teachers, students, kids, parents, and concerned individuals all collected their plastic PLU stickers and made up albums to send to their Member of Parliament explaining why these stickers should be banned. 
Maya's efforts made waves, and her campaign received national coverage from CTV News, Canada's National Observer, and CBC, along with many stories in community media across the country. On April 21, Maya's Plastic Pollution Campaign was a big hit at the City of Markham's Earth Day event. Well over 60 individuals were inspired to join Maya's efforts, including the Mayor of Markham himself, Frank Scarpitti.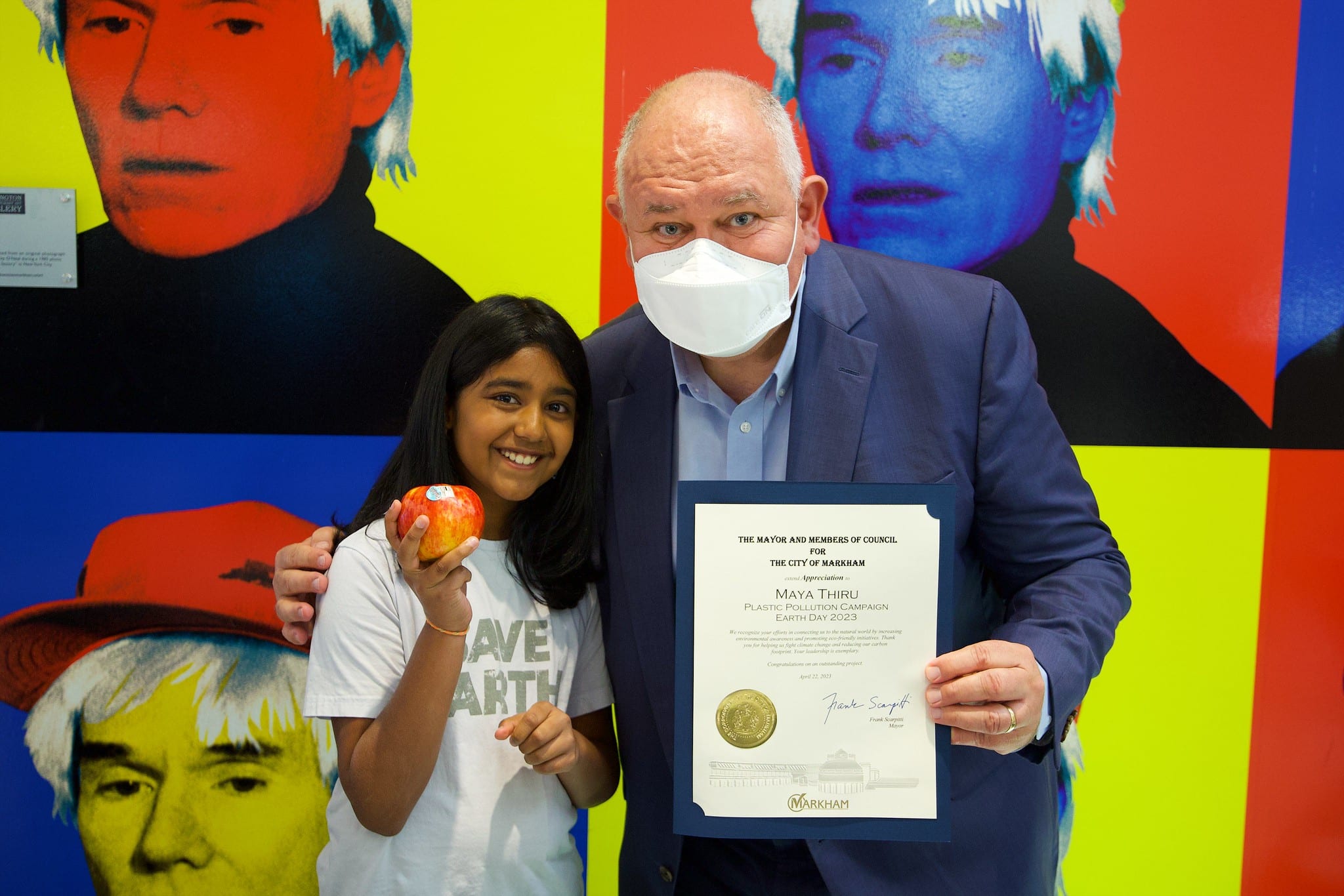 Maya also brought her campaign to the international stage, writing a letter to The Walt Disney Company regarding their partnership with Dole and the Disney-branded PLUs on bananas.  Maya urged Disney to only allow their brand on plastic-free, compostable PLUs as a way of living up to their environmental sustainability commitment. Maya is still waiting for a response from Disney.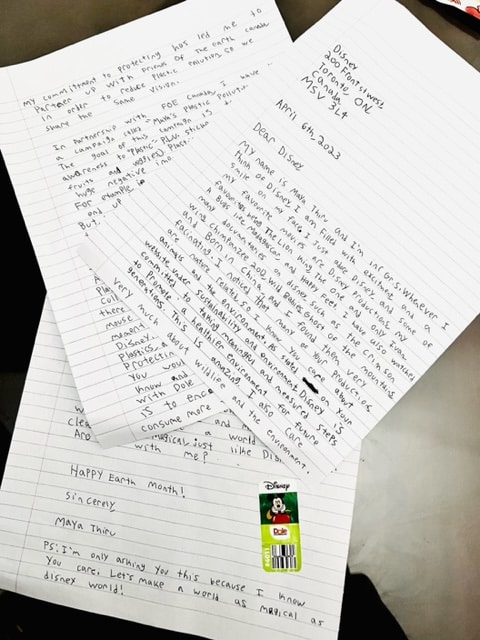 She also had the opportunity to connect with like-minded young people like Robert from the Children's Climate Championship. Maya and Robert sat down to discuss the campaign and future steps Maya plans to take to continue her environmental campaigning. They agreed that kids' issues and campaigns should be taken seriously. 
By the end of the campaign on May 7, 2023, over 2,400 individuals across Canada had joined Maya in her fight against plastic pollution, including over 68 classrooms. At the same time, thousands of plastic PLU stickers were diverted away from compost bins and wastewater facilities. Most of these stickers ended up on the desks of Members of Parliament who are learning that their constituents take plastic pollution very seriously!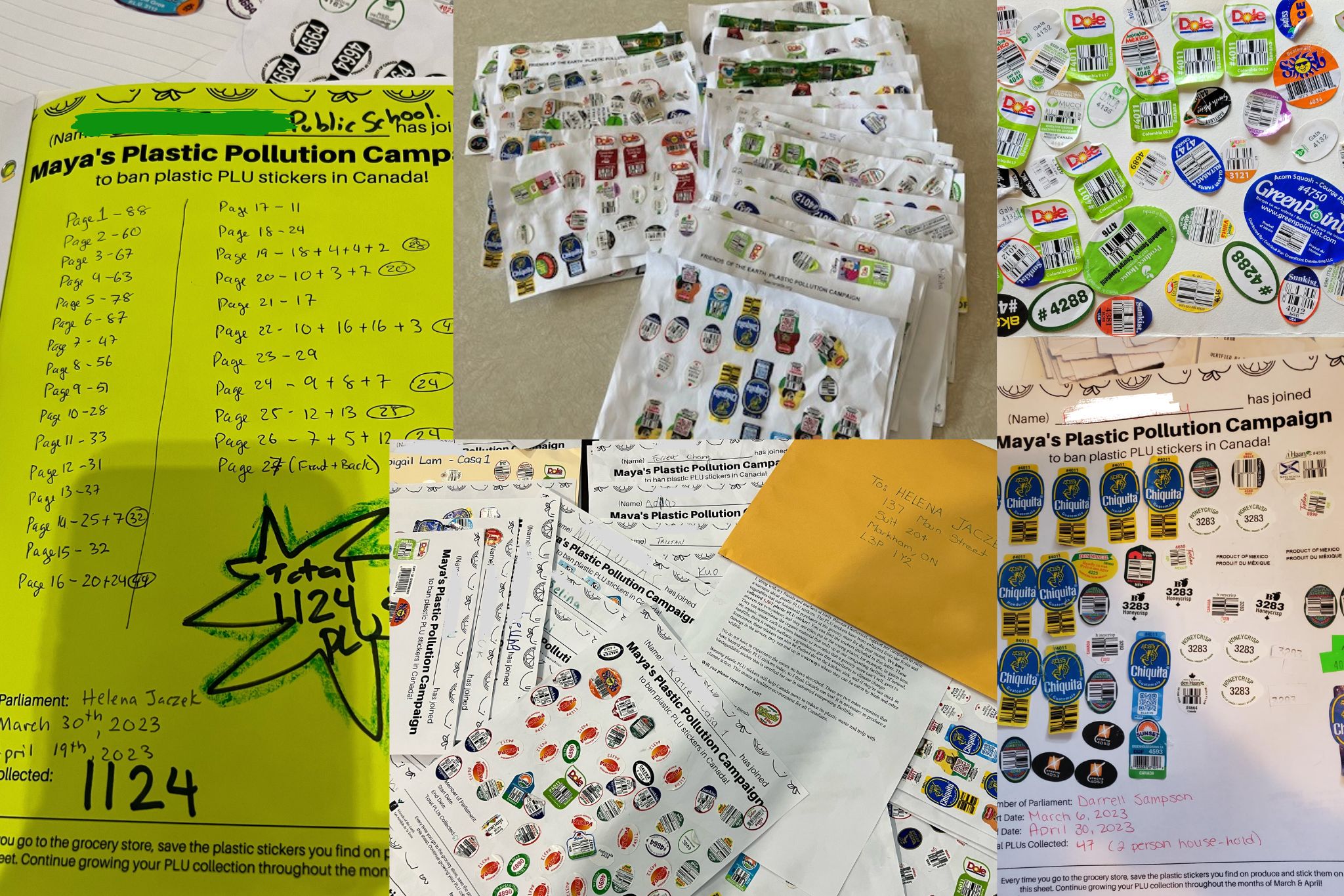 While summer has undoubtedly slowed many of us down for some much-needed rest, exciting progress continues to be made toward banning plastic price look-up stickers (PLUs) in Canada.
In early May, the government released a regulatory paper concerning recycled content and plastic labelling rules. The document outlines specific proposed regulations for PLUs. In particular, it suggests that all PLUs be compostable, "therefore prohibiting non-compostable plastic produce stickers." While officially drafted regulations are only expected towards the end of this year, this document marks a noteworthy step toward banning plastic PLUs and illustrates the government's acknowledgement of the harms associated with these stickers and their wide-ranging environmental impacts.
Shortly after the release of this report, CBC News published a story which featured Accu-Label, a Canadian company that has been designing and manufacturing paper PLUs since the 1990s. Today, they print billions of paper labels yearly, with customers ranging from Canada to Mexico and Australia – evidence that a transition towards compostable sticker alternatives is possible and that the solutions are already in place!
At the end of June, MP Helena Jaczek penned a heartfelt letter congratulating a Markham school for their exceptional collection efforts and expressed her concern for this critical environmental issue while promising to bring the ban proposal to her colleagues at Parliament Hill.
On June 7, Maya celebrated Canadian Environment Week by meeting with the Minister of Environment and Climate Change of Canada, Steven Guilbeault, along with several other Ministers on Parliament Hill to present her campaign. Following this meeting, Maya was thrilled to receive a letter from Minister Guilbeault thanking her for the discussion and assuring her that her ask – that the government bans plastic PLUs – was being considered.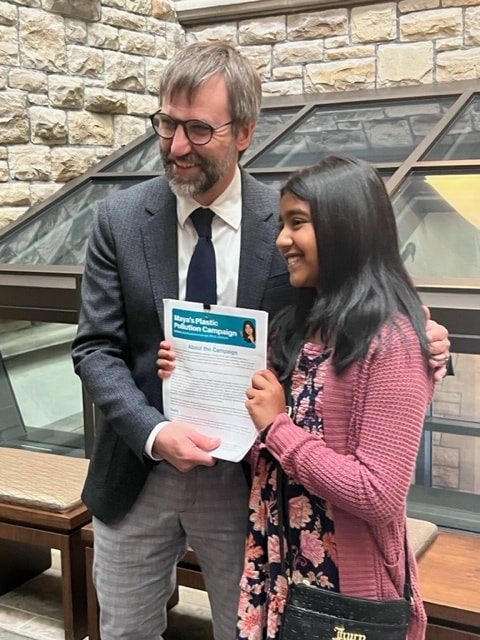 Although Maya's Plastic Pollution Campaign to ban PLU stickers has run its course, its impact continues with the awareness raised about plastic pollution and the positive experience of taking a stand and informing one's Member of Parliament. Some Members of Parliament, like the Hon. Bill Blair, have invited their constituents to meet to discuss their concerns – even if they can't quite vote yet.
This incredible momentum could not have been achieved without your support and involvement in Maya's campaign, and we hope you'll continue to engage with Maya in the 2.0 version of her campaign to urge our government to take meaningful action on plastic pollution.
Friends of the Earth Canada continues to advocate for expanding the ban on plastic single-use products, including plastic PLUs, and will continue to call for political accountability for plastic pollution in Canada leading up to the Plastic Treaty negotiations meeting to be held in Canada in the spring of 2024.
You can also head here to learn how Friends of the Earth is working to 
#ExpandtheBan
on other single-use plastic items in Canada.
To stay informed and get involved in upcoming efforts, make sure you subscribe to FOE's

 mailing list!
How have you continued to take action on plastic pollution in your daily life? We'd love to hear it! Please send us an email at 

foe@foecanada.org.
Support Friends of the Earth's Plastic Pollution Campaigns to urge our government to take meaningful action on plastic pollution.